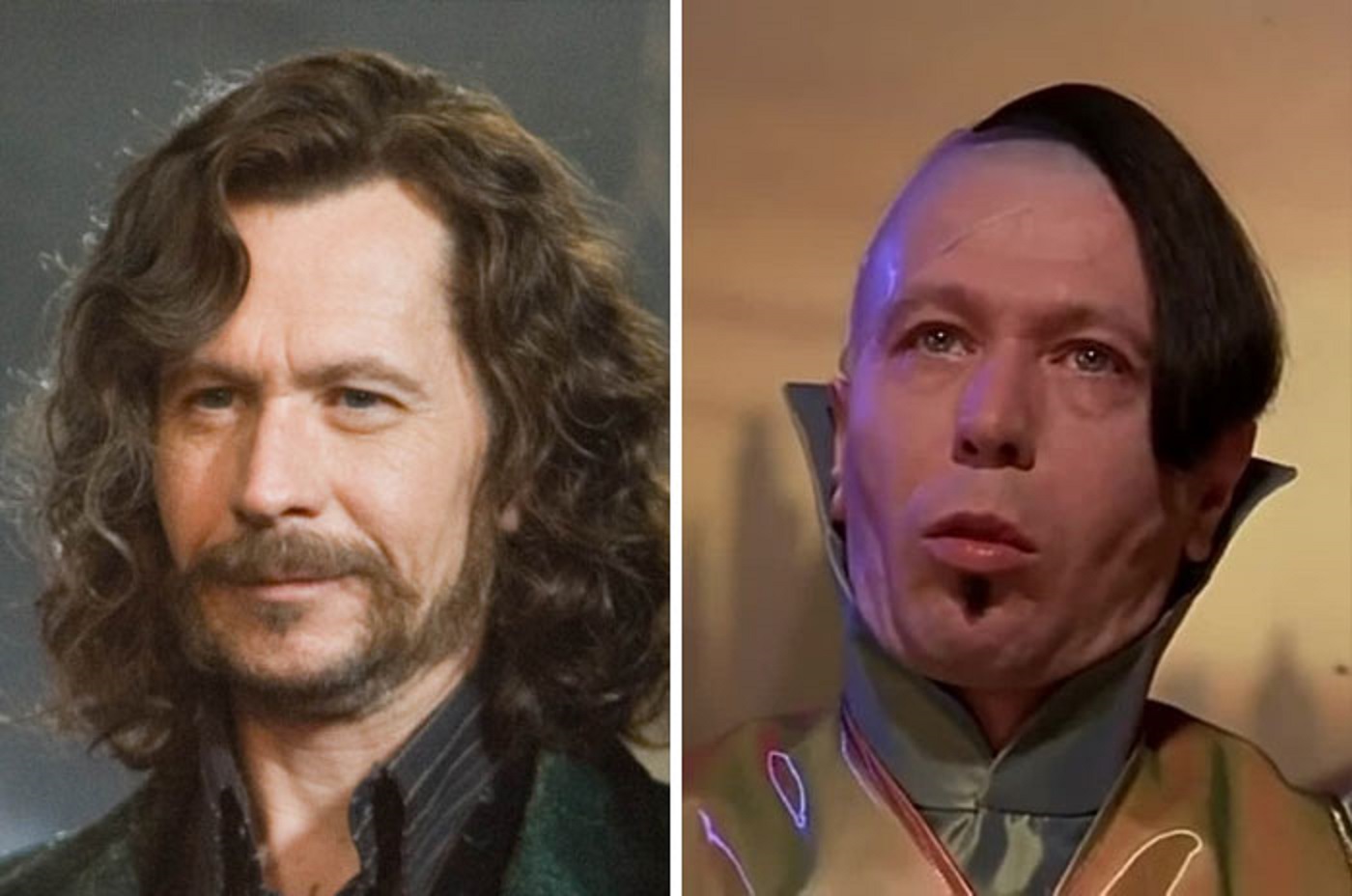 Oyuncuların rollerine göre nasıl değişebileceğini gösteren 20 fotoğraf
Oyuncularun rollerine uyum sağlama yetenekleri izleyiciyi daima büyüler. Ve bazıları bu konuda o kadar iyidir ki bazen çok sevdiğimiz bir oyuncuyu tanıyamayız bile. Aşağıda 20 oyuncunun farklı roller için nasıl değişebildiğini gösteren yan yana 20 görsel var. Keyfini çıkarın.
Gary Oldman: Sirius Black – Harry Potter ve Zorg – Fifth Element
James McAvoy: Mr Tumnus – Narnia ve Professor X – X-Men
Jason Isaacs: Captain Hook – Peter Pan ve Lucius Malfoy – Harry Potter
Mandy Patinkin: Inigo Montoya – The Princess Bride ve Jason Gideon – Criminal Minds
Catherine O'Hara: Kate Mccallister – Home Alone ve Moira Rose – Schitt's Creek
Alan Rickman: Harry – Love Actually ve Prof. Severus Snape – Harry Potter
Claire Foy: Queen Elizabeth II – The Crown ve Lisabeth Salander – Girl In The Spider's Web
Julie Walters: Molly Weasley – The Harry Potter ve Rosie Mulligan – Mamma Mia!
Harry Melling: Dudley Dursley – Harry Potter ve Harry Beltik – The Queen's Gambit
Stanley Tucci: Cesar Flickerman – The Hunger Games ve George Harvey – The Lovely Bones
Oscar Isaac: Poe Dameron – The Star Wars ve Apocalypse – X-Men: Apocalypse
Bryan Cranston: Hal – Malcolm In The Middle ve Walter White – Breaking Bad
Emma Thompson: Nanny Mcphee – Nanny Mcphee ve Prof. Sybil Trelawney – Harry Potter
Helena Bonham Carter: Bellatrix Lestrange – The Harry Potter ve Prenses Margaret – The Crown
Natalia Tena: Nymphadora Tonks – Harry Potter ve Twi'lek – Mandalorian
Heath Ledger: Patrick Verona – 10 Things I Hate About You ve Joker – The Dark Knight
John Travolta: Danny Zuko – Grease ve Edna Turnblad – Hairspray
Linda Cardellini: Velma – Scooby Doo ve Laura Barton – Avengers
Joan Cusack: Sheila – Shameless ve Debbie – Addams Family
Henry Thomas: Elliot – E.T ve Hugh Crain – The Haunting Of Hill House
demilked.com